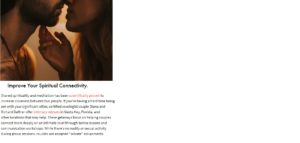 How delighted we were to find ourselves featured in an article on LiveStrong.com about "No-Sleaze-Sex-Retreats!" For a daily "sexual meditation" to share with your partner, read about Peaceful Passion.
In this article, Leah Groth wrote: "Shared spirituality and meditation have been scientifically proven* to increase closeness between two people.
If you're having a hard time being zen with your significant other, certified sexologist couple Diana and Richard Daffner offer Intimacy Retreats in Siesta Key, Florida, and other locations, that may help. These getaways focus on helping couples connect more deeply on an intimate level through tantra lessons and communication workshops. While there's no nudity or sexual activity during group sessions, couples are assigned "private" assignments…"
* A 2017 study conducted at the Max Planck Institute in Germany determined that "dyadic meditation," a practice that involves two people mediating together, will result in them not only feeling closer but also more open with others.